On January 1, 2015, the Community of Sant'Egidio organized a March for Peace in Liège.
I had never heard of Sant'Egidio, I had never walked for peace, but when I saw the event on Internet, I thought : "I have to go there".
The march was attended by about 250 people; Christians, Muslims, Jews and people of other beliefs, who wanted to remember the countries currently at war in the world, including Iraq, Syria and Ukraine, and to tell the importance to commit to a culture of peaceful coexistence in our cities.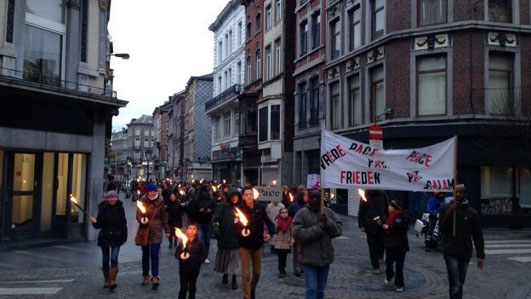 I was suspicious and shy
When I arrived in Liège, I was anxious to join a group of unknown people: what if they are extremists? are they going to try and "hire" me?
Fortunately, there were no signs or banners, only people from different origins talking together and lighting torches.

Very soon, I saw a few familiar faces: a nun from my secundary school, the wife of a friend,... normal people, indeed, and very open to talk with me.
What's the point of walking for peace?
My big question, long before deciding to walk for peace on the camino, was :"What's the point of walking for peace?"
The first person I asked the question in the procession anwered to me: "Nothing is useless."

"You know, she said, staying home to lament watching the world news is useless. But we can't pretend to ignore reality.
So, let's do a first, simple, concrete step, lets go down and walk in the streets of the city.
We just want to leave our sofa and our TV, come together in the cold and walk, surrounded by people motivated by peace and brotherhood among all peoples."
Giving peace to strangers
At the end of the peace march in Liège, we experienced a beautiful moment on Place Saint Paul, exchanging handshakes as a sign of peace between Christians, Jews and Muslims.
This peace sign is also given at Mass every Sunday, I think I shall now live it much more "consciously" now.
More information